♣ Introduction of Gwangju
*With a population of 1.5 million, Gwangju Metropolitan City is the sixth largest city in Korea and a major city in the Jeollanam-do. Gwangju River flows through the center of the city, and the dominant Mudeung Mountain is located at the city's eastern edge. Gwangju is the economical, political, educational and cultural center of the Honam (Jeolla) region. It is home to the major business regional headquarters, the high court of justice and local tax services, as well as being the growth center of the region.

*Gwangju: The City of Light
As shown in its name - 'Gwangju', meaning 'light' and 'ju' meaning 'city' - Gwangju has always played a role of being light in the history of Korea. In defense of justice, democracy, human rights and freedom, students fought against the colonialist Japanese rule and citizens sacrificed their lives during the Democratic Movement, in which citizens rose up against Chun Doo-hwan's illegal military dictatorship. Gwangju's struggle to preserve human rights and its role in the development of democracy has been recorded in Korean history. A national cemetery and the day of commemoration (May 18), along with acts to compensate and restore honor to victims, have since been established.

*Gwangju, a Cultural Hub City of Asia
The Korean national government initiated a grand culture project "Gwangju, A Cultural Hub City of Asia," to forge cultural ties and establish a forum of exchange with the various countries of Asia and to enhance the overall quality of life of the Asian community by transforming Gwangju into a culture city of novel concepts. The project aspires to see the creation of a forum where all Asians can share and exchange the precious cultural assets of the continent. The representatives hope to preserve the traditional cultures of Asia and at the same time play an important role in the creation, distribution and commercialization of a wide variety of culture. As an international city, Gwangju successfully held the World Summer Universiade in July 2015 and the 18th FINA World Aquatics Championships in 2019.
♣ 8 sceneries of Seo-gu, Gwangju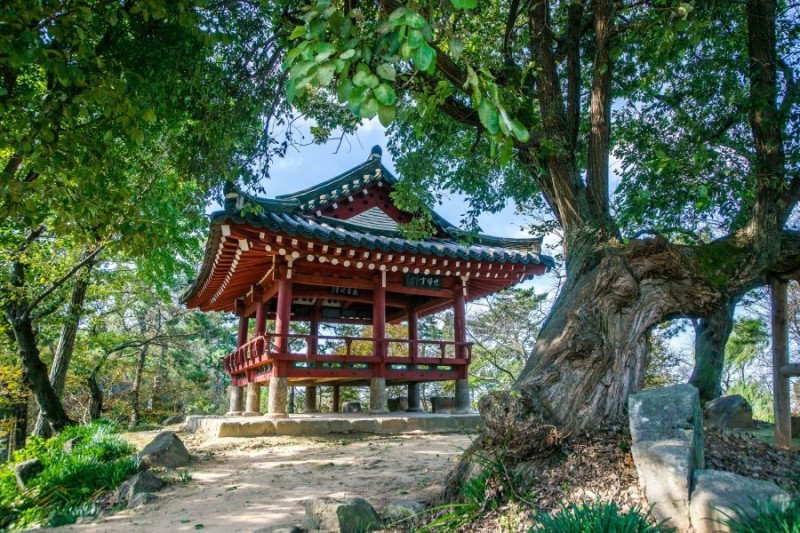 1st
View
Man Gwi Jeong
A tower in the Joseon Dynasty
Appointed Number: Gwangju Metropolitan City Cultural Heritage Material No. 5
Appointed Year: February 29th, 1984
Location: 10 Dongha-ri, Seo-gu, Gwangju (Seha-dong)
Era: the Joseon Dynasty
During the Japanese colonial era period, there was a meeting of scholars called "Mangwi Regular Meeting", and it was used as a place for poets and calligraphers who enjoyed music and entertainment.
2st
View
Geumdang Mountain
The height is about 300m, and it is a mountain surround by the Pungam district like a folding screen. Oknyeobong Peak and Hwangsaebong Peak are located between the top. There are various trails, and the most common course is from Wonkwang University Oriental Medicine Hospital to Pungam Reservoir.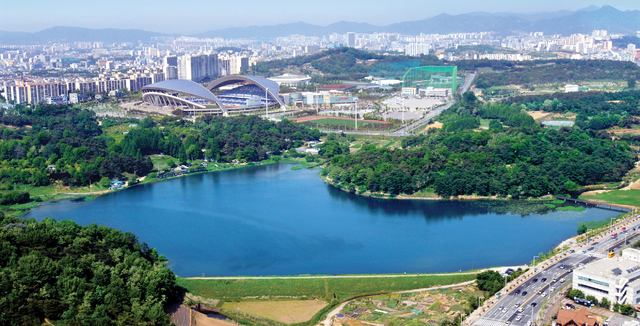 3st
View
Pungam Lake
Extent: 244.587㎡
Pondage: 449,000ton
Roundabout walk: 2.2km
It was built for agricultural purposes in 1956, but with the development of Pungam housing site, traditional pavilions and wooden bridges were installed as a pilot project to make it a park for visitors. It is a symbolic shelter in Gwangju where nature and tradition are harmonized, and 3,000 visitors a day.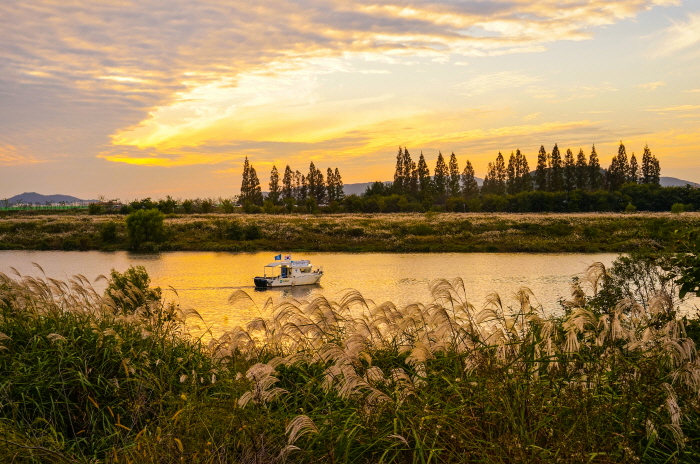 4st
View
Sunset at Seochang Field
Located in the center of Gwangju, it is surrounded by several mountains such as Geumdang, Gaegeum, and Songhak like folding screens. It is a good city to live in, with abundant green areas and convenient transportation conditions.
Most of areas near Seochang-dong are agricultural workers, and they not only retain the rural scenery and popularity, but also have various cultural infrastructure such as a local culture village, a Korean traditional music center, and a cultural center nearby.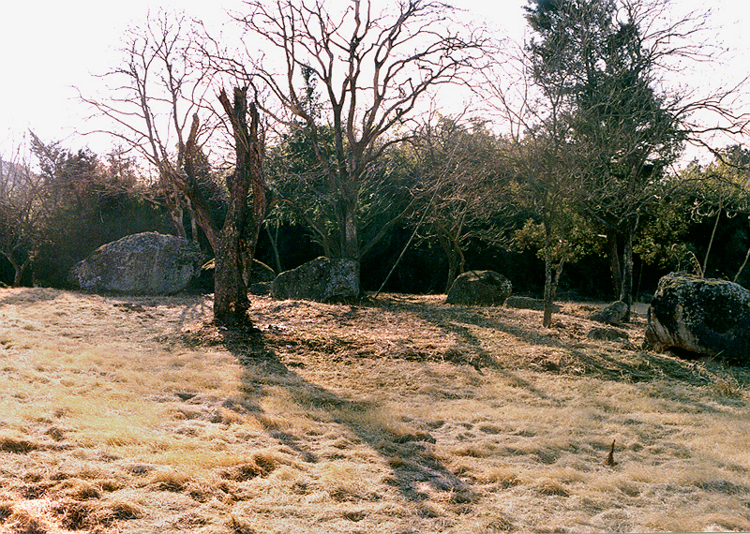 5st
View
Memorial Stone Tomb of Yongduri
Appointed Number: Gwangju Metropolitan City Cultural Heritage Material No. 6
Appointed Year: February 29th, 1984
Location: 25-1 Yongdu-dong, Seo-gu, Gwangju
Belonging to: Gwangju Metropolitan City
A representative tomb of the Bronze Age, also called Dolmen, and mainly a tomb of the ruling class with economic or political power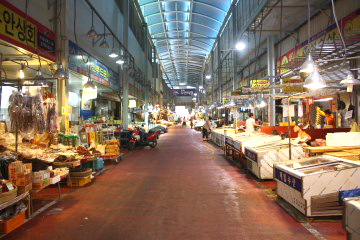 6st
View
Yangdong Marketplace
It is the largest traditional market in the Honam region, especially agricultural and marine products, where the atmosphere of the common people is alive. It is also a place for purchasing goods and exchanges.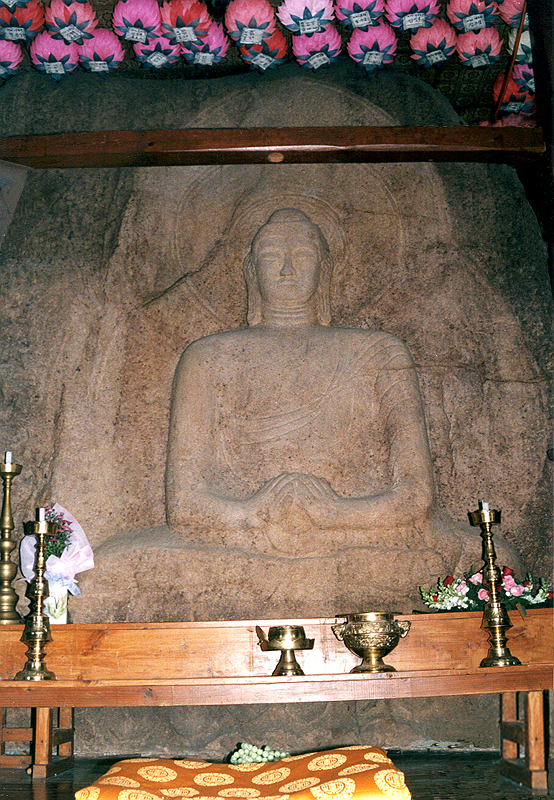 7st
View
Uncheon samaae yeolae jwasang
Stone Cave Buddha of the Goryeo Dynasty
Appointed Number: Gwangju Metropolitan City Tangible Cultural Property No. 4
Appointed Year: September 24th, 1974
Location: 85-15 Geumho Uncheon-gil, Seo-gu, Gwangju (Ssangchon-dong)
Era: the Goryeo Dynasty
Size: About 2m height
A wide face, long eyes, a towering nose, thick lips, and long drooping ears. The thick neck, open shoulders, and sit-down posture show his stable and confident appearance.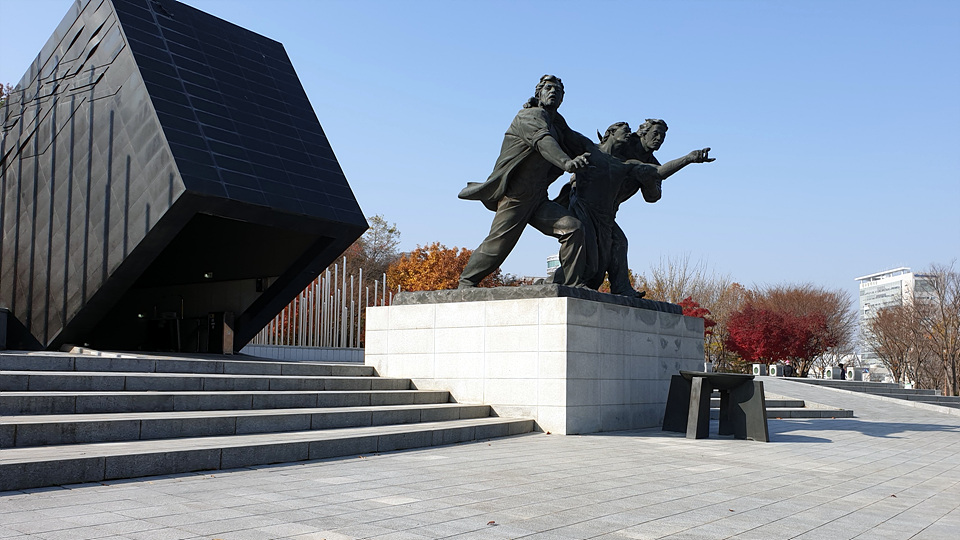 8st
View
5.18 Memorial Park
Extent: 204,885㎡
Architectural Facilities: 45 facilities including Owollu, Traditional Pond
Sculpture and memorial sublimation space, etc.
There is the 5.18 Memorial Cultural Center has promoted the succession and development of the noble spirit by educating the 5.18 spirit and human rights.