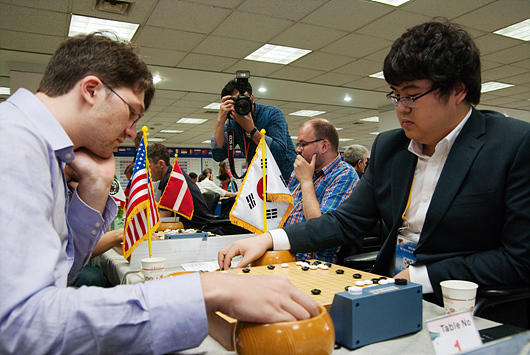 Wei TaeWoong a representative of Korea got a victory in the 9th KPMC which was held on 19th ~ 20th in KBA KOorea. Wei TaeWoong got 3 wins again in the second day and got a perfect win in KPMC with 6 wins without any lose.
Wei TaeWoong¡?s opponents are from Ukraine, Sauth Africa, Hong Kong in the first day and Taiwan, China and America in the second day.

The key game was the game against Hu YuChing from China in the 5th match. In this game, Hu YuChing from China led the game by little from the beginning, but Wei TanWoong tried his last move and succeeded in turning the game for him.
Wei TaeWoong said in the interview that I couldn¡?t see his games before the match, and just reviewed few games with others. I felt unprepared about him but thought I should do my best; I could win the game with a lot of lucks.
I am very happy to win the KPMC, and I will prepare with my best for next year¡?s pro qualification tournaments.
China came up second and Taiwan, Japan, America, Mexico, Taiwan and Russia followed after that.
Detailed information will be updated soon.