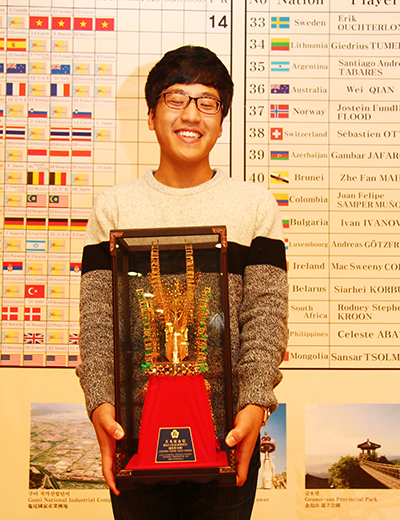 8th KPMC¡?s winner is again for Korea player.
Park JaeKyen 6Dan 17 years old won 8th KPMC in the end. Park 6Dan won against Li Pu 8Dan from China in the last round by resign with white and decided to win the tournament.

It was a perfect win. Park 6Dan took a lot of territories from the beginning and arranged the game easily as he wanted. Yu ChangHuk 9Dan who is referee commented that it was a perfect win for Park JaeKyen 6Dan showing his great level against Li Pu 8Dan from China. As Park JaeKyen 6Dan won this year, Korea won this KPMC 2 times in a row.

KiKuo Emura 7Dan from Japan lost Li Pu 8Dan from China in the round 4 and got away from winning. KiKuo Emura 7Dan from Japan had 6 wins 1 lose but ranked in 5 with points and Bill Lin 7Dan form Canada came in third having 6wins 1 lose in the end. Blii Lin 7Dan is same age with Park JaeKyen 6Dan from Korea.

Each countries representative came to Korea to compete their great level and also the healthy relationship with each other in 8th KPMC. 15 players from Asia, 34 countries from Europe, 2 players from Africa, 9 players from the Americas and 2 players from Oceania. In total, 62 players attended to this great 8th KPMC in Korea this time. All people are supposed to enjoy sightseeing in Gumi on 14th after having great tournament.
Together with 8th KPMC, there are several Baduk tournaments for Gumi residents and children and also the great Baduk events.