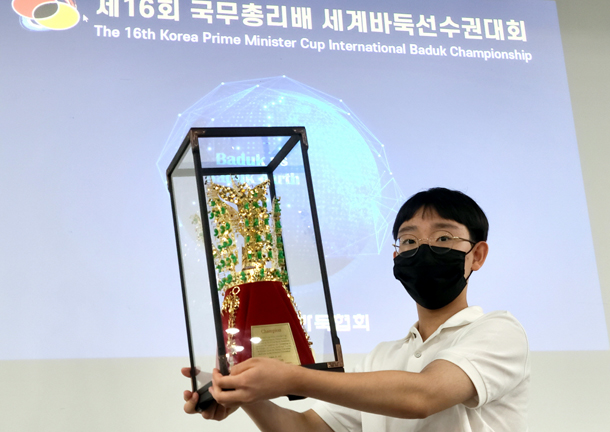 - The Representative of Korea Kim Seung-Gu(15), holding the championship cup. [16th KPMC Winner]
Korea recaptured the championship trophy in 7 years. The 16th KPMC Representative of Korea 'Kim Seung-Gu' won the trophy, getting a victory against the Chinese Representative 'Huang Qiuxuan(11)' in the final match.
Kim-Seung Gu earned a second place in the representative player selection tournament, but the originally selected player 'Huh Young-rak' was promoted to a pro player, so had a chance to attend the tournament as a substitute.
The previous Korean Representative winner is Wi Tae-woong (currently, pro 4d) in 2014 - 7 years ago. For the last 6 years, China won the championships in the KPMC. Since the first KPMC (2006), the number of champions are as the following: Korea - 8 times / China - 7 times / Chinese Taipei - 1 time
The 16th KPMC winner Kim-Seung Gu said "it was a special experience for me to play against the international representative players. Regarding the final match, the opening went very well, so there was nothing really hard. My goal is to become a pro-baduk player and make some achievements in the well-known pro-baduk competitions".
[Black: Kim Seung-Gu / White: Huang Qiuxuan / Result: B wins by 1.5]
With more, the sub events (pair-baduk / 10-secs baduk) gained traction for the players who failed to proceed to the tournament.

Some of the important preliminary & tournament matches were broadcasted via Youtube and Twitch.